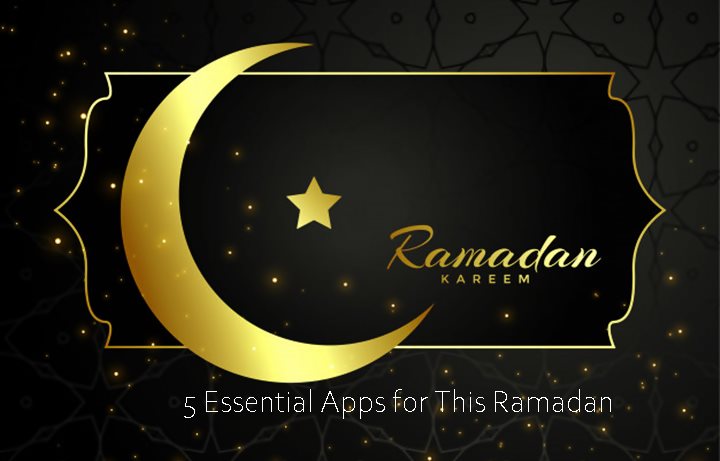 Ramadan is the most blessed month of the year in Islamic values. Ramadan is the 9th month in the Islamic calendar based on the cycles of the moon. During Ramadan, Muslims fast, swear off delights, and pray to become closer to Allah. It is also a period for families to gather and celebrate.
In 21st century technology and the powers of globalization have conclusively changed how Muslims observe this special and holy month. From the app in your phone that can be used to determine when to start and break the fast, to the Concorde jets that can move the wealthiest of believers to different time zones, the technology has changed Ramadan in educational manners.
Today TechShouts will talk about the app that you may use in Ramadan to help become closer to Allah. So let's have a look on 5 Essential App for This Ramadan.
MUSLIM PRO
Muslim Pro is an app with accurate prayer time, azan clock, full audio Quran, Qibla locator, Islamic Hijri calendar, etc. It is available as well as web-based at www.muslimpro.com.
Features
Prayer Time: The most accurate Prayer times & Adhan application on mobile devices. The app to offer verified prayer times for major cities across the world. You can get audio notifications for the call for prayers from the collection of muezzin voices available.
Holy Quran: The full Quran with Arabic scripts, phonetics, translations and audio narrations from different reciters. With Reading Progress, you can now keep track of the sections you have read.
Qibla Direction: Wherever you are, Muslim Pro has a dynamic Qibla compass and map to show you the direction to Mecca to accomplish your Salah.
Translations: With 40+ translations available, you can read and understand the Quran in your preferred language. Muslim Pro Quran also includes colored Tajweed to help you improve your pronunciation when reading the Quran.
Duas: Recite the most appropriate Duas from the Hisn'ul Muslim section on Muslim Pro for each moment of your day.
Others: Muslim Pro Quran has many others feature like 99 Names, Daily Inspiration, Islamic Calendar, Fasting Tracker, Zakat, Makkah Live etc.
Available for both Play Store & Apple Store
RAMADAN LEGACY
Ramadan Legacy is the Fully Featured App that's apprehensions your Ramadan experience. The app combines smart technology and attractive design all to help you to make Ramadan easy and enjoyable.
Features
Interactive Planner: You embark on your Ramadan experience with the interactive 30 day Ramadan planner. This helps track your days fasted, your prayers and your Quran recitation.
Prayer Times: Keep up to date with when you need to pray next with countdown timer for the next salah.
Qibla Direction: The Qibla direction feature to find the direction of where to pray your salah.
Ramadan Content Feed: The app features a content feed packed full of inspirational blogs and videos on topics allowing users to go through an attractive learning experience.
Available for both Play Store & Apple Store
LEARN QURAN TAJWID
If you don't know how to read the Qur'an or want to perfect your reading, Learn Quran Tajwid is for you. The app offers complete lessons from basic to advanced Tajweed lessons, making this app appropriate for learners at all levels: whether you don't know at all how to recite the Quran, or you have been able to recite but want to improve your tajweed and makhraj.
Features
Voice: Voice narration of the Arabic scripts helps you to pronounce the script perfectly.
Practice Helps: Transliteration of the Arabic transcript and topic highlight. These features can be turned on and off.
Recording: Record your voices so you can compare your reading to the narration or to be evaluated by your instructor later.
Quranic Examples: Examples used in the theories, practices and tests are taken from Quran verses to explain learners with Quranic words.
Pictures & Video: Clarifying makharij needs a representation, clarifying Ishmam needs audiovisual, etc. This app provides them.
Available for both Play Store & Apple Store
HAFIZI QURAN 15 LINES
Hafizi Quran 15 lines the app all contains are offline and great tools for learning / reading Quran in Ramadan & Hajj; all over year. Full Quran Audio is provided verse by verse for 6 famous reciters. Para, the Sura list is given with indexes.
Features
Offline: The whole Quran in offline.
Audio: You will get Quran Audio (Telawat).
Language: Multi Language facility like Arabic, Bangla, English, French, Spanish, Indonesian, Malay, Turkish, Urdu, Hindi etc.
Zoom: This app has zoom in feature.
Available for both Play Store & Apple Store
TASBIH
In this modern era as everything is getting digitized then why shouldn't Tasbih. This simple Tasbih app will make your prayer easier and quicker specially in Ramadan. The Tasbih app is the modern and the digital version of Tasbih/Tashbeeh which can be used anytime and anywhere via your smart phone.
Features
Tasbih included with meaning & transliteration and each tasbih count auto save
You can find nearest mosque from your current location.
You find special days of islam like Ramadan, Hajj etc.
In your language like Arabic, English, French, Indonesian, Malay, Bangla etc.
Available for both Play Store & Apple Store
Writer: M Zahidul Kabir