The Complete Ecommerce Startup Guide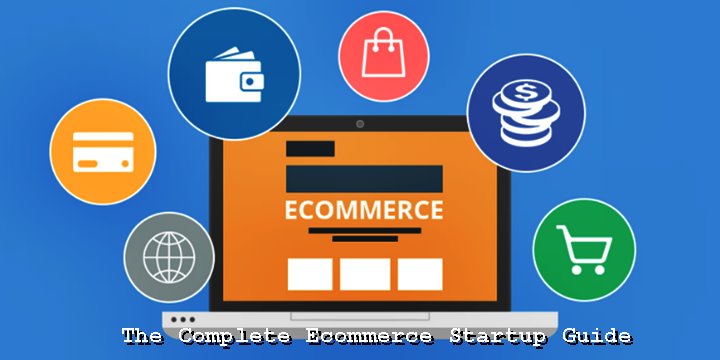 Ecommerce is a very popular term nowadays. Also known as electronic commerce, a business model that refers to buying and selling the products or services using the Internet.
In the modern world, the most popular example of Ecommerce is online shopping, related to payment gateways, online bidding or auctions, online ticketing, and internet banking.
But, whenever we think about the past form of Ecommerce it has definitely evolved through the years.
Examples are seen in improved payment options, faster shipping, more developed User Interface (UI), automatic order processing, and more. These make a notable impact on customer understanding of the importance of Ecommerce.
History of Ecommerce
Dating back to 1979 when Michael Aldrich connected his television to a computer using his telephone line, triggered the idea of shopping without visiting a physical store. Though, it was unlike Ecommerce as we know nowadays. But the wonderful fact about the first-ever online sale is different. Dating back to 11 August 1994, a man sold a Compact Disc (CD) from sting to his friend through his website NetMarket. That sale was the first example of a consumer buying a product from an online shop or platform through the World Wide Web (WWW) as we know it today.
In global eCommerce 3 big companies – Amazon, Alibaba, and eBay lead this sector. They were among the first online shopping companies to allow electronic transactions.
Ecommerce, the most influential retail market projected to get around 4.135 trillion USD in sales in 2020.
Benefits of Ecommerce
Ecommerce became so important and had tremendous growth for the past decade. With easy access to the internet helps Ecommerce businesses to learn how to take advantage of it. Now, we are going to discuss the benefits of eCommerce.
1. From local to the global market
Taking the advantages of digitalization, companies, no longer focused only on local physical stores. Ecommerce makes it easier to expand their reach to more customers using social media or eCommerce websites. From local stores to the global market are the top benefits of eCommerce.
2. 24/7/365 availability
It is great when you can sell your products at any time to anyone in the world. Digitally empowered customers can reach out whenever they want to make a purchase of a product or service. An Ecommerce business can serve its customers 24 hours 7 days and 365 days around the year without working hours.
3. Better customer service
By accessing customers' habits, interests, gender, and other personal information enable eCommerce companies to keep pace with customer-oriented marketing activities. These types of information help Ecommerce companies to provide better customer service.
4. Working from anywhere
With Ecommerce, people can work from home or remotely and don't have to be in official duty. Just all you need a desktop, laptop, or smartphone with good internet speed and mobile phones to manage the business from anywhere. Finally, this is very important to communicate with your existing and upcoming customers with live chat to boost customer experience and support.
5. Reduced costs
Online business benefits significantly from lower running costs. No need for the physical store or salesperson or any storage. As a business, you can save on operational expenses so that you can offer better deals and discounts to customers.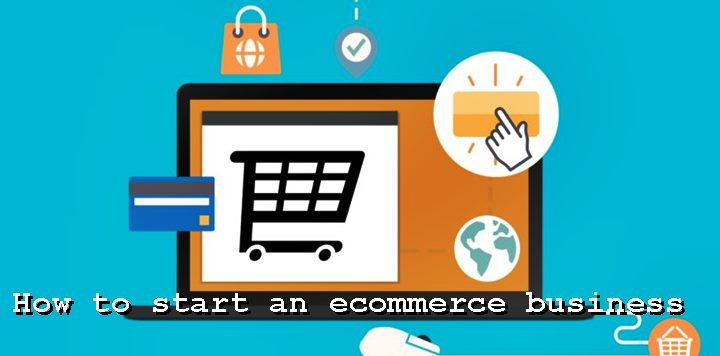 How to start an Ecommerce business
When thinking about ecommerce business, first and foremost, you have to find out what should you do. Ask yourself these questions:
What am I selling?
Who do I want to sell it to?
How am I sourcing my product?
If you're starting an e-commerce business from scratch, it's time to start ticking off things from your checklist, so here it is.
Choosing Ecommerce niche
To start an online shop the most important thing is choosing a niche. The most or least competitive area is a good choice of niche. The benefit of good niche is owners can work together in order to grow the customer base.
Research business models
For any successful business growth a business model is must. There are 4 types of ecommerce model.
Business to Business (B2B): B2B model is the one where exchange of good or services takes place between companies instead of individuals. It is a situation whereby one company provides goods or services online with other companies as its target audience group.
Business to Consumer (B2C): This model refers to the distribution of goods and services from business to individual consumers. Examples of this model are Amazon, PayPal, ebay, Alibaba etc.
Consumer to Business (C2B): Opposite from the B2C model, this one is when a consumer sells their products or services to a business or organization. Examples can be programmers, social media managers, content creators, and other services providers working online.
Consumer to Consumer (C2C): When a consumer sells a product or service to another consumer, usually through a third-party website.
Buyer personas and product selection
Before developing the idea of any business it is better to think about the buyer personas of your brand. Who are you? Who are your customers? What does your business represent?
You need to project a consistent brand image because your goal is to gain a lot of targeted traffic in your business. To expect people to buy your product, you have to know who you're selling to. In this case, surveys are a quality source. Through surveys, you'll get a better insight into the factors that keep your customers buying again and again.
Establish your brand and business
Identified the image you want to project and target group for Ecommerce business, it's time to start with product ideas. Whatever go for, remember that often less is more.
Before invest in the product, evaluate it carefully
Thinking about product price and what customer problems they solve. That will give a better idea of how to set your pricing model perfectly. If you set a price too low, you could fail with your return of investment. On the other hand, if your price is too high, a lot of your customers won't likely be able to afford it.
Create your online store
When anyone choosing an Ecommerce store makes sure that consider price, features, support, ease of use, and performance. In this phase, you will need to start thinking about the design, registration of your domain name, and any redirect URLs that might be relevant. However, it doesn't mean you will have to hire a development company. It would be enough to use a theme. In that case, depending on your business brand, you might only need to pay a small fee to get a good template.
Attract customers to your Ecommerce store
The best Ecommerce sites invest a lot in digital marketing. If you don't have funds, there are many other ways to increase publicity. This is individual, though, and depends on whether you will use sponsored content, social media, pay-per-click ads, or a combination of them all. Once you decide, keep monitoring what campaigns are driving traffic to your store.
Marketing your products online
Track the flow of the traffic on your site. You can use analytics tools to help you monitor and optimize every step of the sales process.
If you notice sales curve is not increasing, although you're driving traffic to your store, take a close look at your product listings and carefully improve each page.
Top Ecommerce Tools
It is very important to find the tools that will help you manage your business activities. So here are a few tools to help you reach your full potential:
Asana
Asana is one of the most popular management tools that allow you to create different tasks for each team member, create plans, mark projects and task as completed, and other possibilities. It is flexible and very useful, especially when you have deadlines.
Search spring
For collecting better search data, drive search conversions, relevant search results try to use Search Spring. This is mostly for advanced website search and category navigation.
SEMRush
SEMRush is a tool that will let you see your page performance and you will have an insight into competitor site where you can then compare sites. This tool tracks million keywords and tracking more than million domains. It offers solutions for social media like Facebook, twitter, Instagram, LinkedIn, PPC, content, SEO and competitive research.
Squarespace
It is a simple website builder for all types of businesses with several options.
It is ideal for creating professional websites as it offers the high quality of the templates. One of the best thing about Squarespace websites are the cool features and the fact that is is mobile friendly.
VWO – Visual Website Optimizer
VWO is a testing tool that offers a number of features that go well beyond analytics. It is a great tool for marketing professionals as it allows them to create a different version of their websites. It integrates perfectly with most major Ecommerce platforms.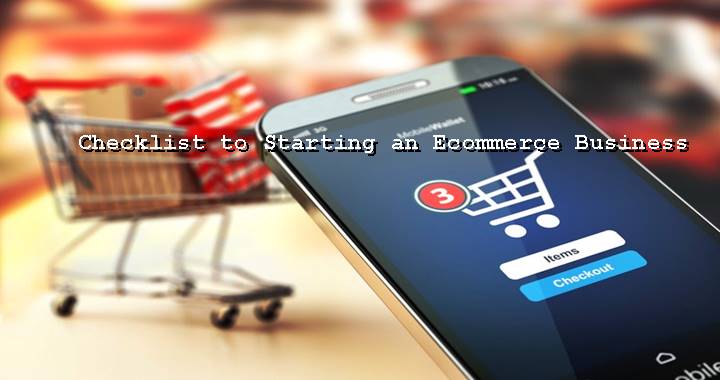 Checklist to Starting an Ecommerce Business
Before starting an Ecommerce business and selling products online use this checklist to do this right way.
1. Start with Business Name
First of all, choose a nice, artistic and fabulous business name that no one else is using. Conduct a business name search to make sure it is not already in use. Once chose the name, register it.
2. Secure Domain Name and Website
Secure a domain name according to your business name, if it is available registrar the name. Choose a URL that is easy to spell and relates to business name. After secure a domain name try to design your website. Make sure that, your hosting is good, reliable and fast. A good website visually appeal any customer or viewer.
3. Select Business Structure and Register Business
Select best business structure among Sole proprietorship, partnership, LLC and Corporation. If you don't choose a business structure like a corporation or LLC, you'll automatically be considered a sole proprietor by the IRS. Both corporation and LLC separate assets from the business, and provide other tax benefits.
4. Apply for Business Licenses and Permits
Operating an ecommerce business needs certain business licenses and permits. Check with city, county, and state to see what sorts of sales tax licenses or home business licenses and get those approved before you start operating.
5. Find the Right Vendors
Having a lot of competition selling products online, find the best quality and best prices for the products you sell or the materials you use to create your products. Find a vendor to do business with the long-term.
6. Start Marketing Early
It's a good idea to set up social media profiles and writing content for your website from the beginning of your business. Set up your website with a "coming soon" or '' under construction'' page where people who are interested can sign up to get updates.
7. Get More Productive with Right Software
Before you start your ecommerce business use customer relationship management, accounting, project management, and email marketing software that you can integrate into what you're doing once you launch.
8. Stock Your Inventory
If anyone able to manage a warehouse full of products somewhere or inventory lives in garage, make sure that it is enough to launch. It's better to have much inventory than not enough.
Ecommerce is not conducting business transactions via the Internet. Global Eommerce is creating an entirely new economy and that will tremendously change our lives, will reshape the competition in various industries, and alter the economy globally. Companies, gaining high profits, other companies, developing their websites to increase their profits.
From the inception of the Internet and Ecommerce, possibilities have become endless for both businesses and consumers. Creating more opportunities for profit and advancements for businesses, while creating more options for consumers. However, Ecommerce has disadvantages including consumer uncertainties, which cannot be resolved or avoided by good decision-making.
There are several factors and variables need to be considered when starting an Ecommerce business. Some of these include types of Ecommerce and marketing strategies. If the correct methods and practices are followed, a business will prosper in an Ecommerce setting with much success and profitability.
Writer: Tahsin Ahmed