Types of Classroom Technologies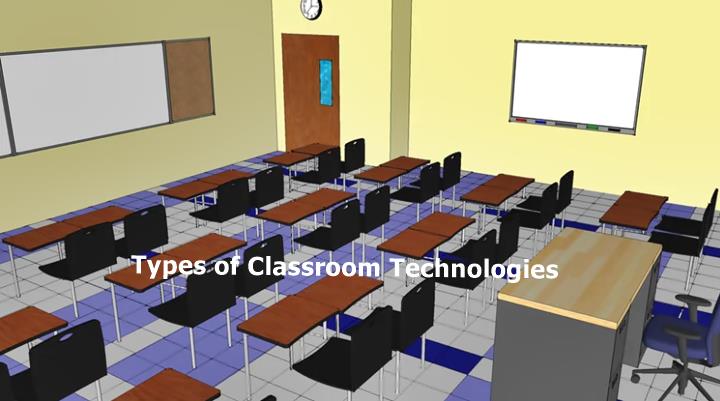 Change is the order of the day. Everything changes in the course of time. Same thing we notice in the field of classroom technology.
Classroom Technologies are essential for daily learning activities. Technology makes it possible for conducting classroom activities.
Technology can improve students learning and as well as benefit educators. In this article, we explore the types of classroom technologies that can be used for learning sessions.
Electronic Whiteboards
Electronic whiteboards are helpful and effective for group-based learning. They are used for group presentations that enhance learning. Educators can use whiteboards to teach various languages, accounting, mathematics, physics, chemistry, finance, etc. Electronic whiteboards are interactive that helps teachers to project a diagram from a laptop onto the board and draw on it to help students understand quickly. It is basically a screen that interacts with the images project by touching the screen or using special markers. This device is very interactive and students are in love with it! This tool will really spice up lessons because students are able to manipulate content and interact with the lesson.
Projectors
In a large classroom, all students are not able to view what the teaching is showing on the screen, that's where projectors come in. A projector linked to a laptop and projects the screen to a larger whiteboard in front of the classroom. It allows students, even those at the backbench, to see a larger version of the laptop screen.
A mounted LCD projector allows teachers to share activities, PowerPoint presentations, and other media directly from their computer. The device is mandatory in every classroom. Using an LCD projector, a teacher can put an entire PowerPoint presentation up on the wall for all of their students to see the lecture.
Projectors on their surface, a simple technology that has been around for the last decades.
The flexible projector, as displayed in the video below, can be linked to a wide range of devices allowing instructors and pupils to fully utilize it.
Flipped Learning
Flipped learning, an education approach during which the traditional notion of classroom-based mostly learning is inverted.
Students introduced to the learning material before class with classroom time then being used to deepen understanding through discussion with peers and problem-solving activities facilitated by teachers.
Flipped learning could be a part of modern-day technology utilized in classrooms.
With this technology, students will use their personal computers or hand-held devices to observe lectures hosted on college servers. Later, they will have discussions in a school that supported the videos. Teachers can easily interact with their students on a matched basis through personal devices and enhance learning.
Desktops, Laptops, tablets, and phones
More teaching applications and classroom software are being introduced to the technology market. This drives the necessity for schools to urge subtle computers with powerful processors to run the same applications.
Classroom software help in managing and storing student records. Computers contribute to abolishing the need for bulky encyclopedias and dictionaries as students can quickly lookup information on the internet.
Monitoring software will assist in gauging the extent of understanding of students by; checking for his or her recall of arithmetic facts, quizzing their comprehension of a book, or by providing associate interactive workplace complete with a virtual dissection.
The computer will be used for preparing lesson plans, completing your grade book, checking email, making posters, preparing letters, and so on. The computer also serves as the main connector to all of the other technology. It can also allow students to use computers to create projects or papers, and practice important skills using math and reading programs.
The presence of computers or tablets within the classroom is fairly common in developed countries. Students have used computers to require notes in school for over a decade. Tablets and phones are even a lot of moveable and have identical capability. In the previous couple of years, these devices have gained practicality and prominence within the classroom.
Mobile devices alter students to require their classrooms anyplace. There are additional education apps accessible already that students, similarly as teachers, can use. By using mobile devices, teachers and students will maintain a connected classroom experience.
The Internet
For teachers, the internet provides access to a vast library of lessons, activities, and digital resources that may be wont to enhance classroom information. History teachers, as an example, will stream documentaries on a range of subjects or have student's analysis of primary sources through the Library of Congress. Math and science teachers will facilitate students to grasp difficult ideas by operating through the lessons at Khan Academy. Digital tools like Drawp for college, Google Drive, and Popplet facilitate student collaboration and encourage participatory learning.
Videoconferencing Technologies
Through video conferencing, students in different geographical locations can able to attend a lecture through online streaming. Video conferences can be set up on Skype, Zoom, or Google Hangouts, and Guest Speakers can easily address the students. Video conferencing can help reduce travel costs and time required to give speeches at different places.
Television
Televisions can show current events in a country like business news, business news, educational news, entertainment, etc. They can also be used to play educational and instructional videos for learning purposes of the students.
Document Camera
From reading pages out of a storybook to showing students how to make the letter 'A', this device is a great tool.
A document the camera displays a period of time visuals on a bigger scale. This can be good for showing samples of the way to complete a mathematical page, giving handwriting tips, or simply reading a story whereas students watch from their seats.
The camera is connected to a multimedia system projector. Once an item, like a book, worksheet, or science experiment is placed beneath the camera, it comes onto the screen live and in action.
Just like the camera on your cell phone, it shows every movement and detail and can be even used to take still pictures or videos for use in later discussions.
A document camera works in conjunction with a digital display projector.
It has essentially taken the place of overhead projectors.
Using a document camera, teachers will place any materials need they share underneath the camera that captures a picture and delivers it to the digital display projector. Once the image is abreast of the screen, teachers will use the camera to require a screenshot of the document and put it aside on to their PC for later use. A document camera additionally permits lecturers to put diagrams, charts, and textbooks on screen in order that large teams of students will read equivalent materials at an equivalent time.
Smart tables
Smart tables are re-orienting information for all ages. These digital displays take info off the wall and place it on tables. Smart tables focus their innovation on making the display more simultaneous interactions. For example, the table within the video below will handle 40 unique touchpoints at identical times.
It is a perfect fit for a room full of eager young students.
The layout of smart tables makes it a lot of access to individuals of all ages and physical skills than smartboards.
Digital textbooks
Digital textbooks are getting a lot of crucial as some educational institutions cutting short on pricey physical textbooks. Some educational institutions going on the far side adopting a replacement format for education texts. Initially, digital textbooks merely the previous textbooks in digital type.
Nowadays, digital versions are starting to look more like online databases or programs than their paper predecessors.
Computer Networking
The networking of classroom computers is an efficient method of technology. The teacher will monitor what students do on their personal computers from a central point.
Computer networking ensures that students do not deviate from what they are instructed to do.
An alarm is raised on the central monitoring computer now a student deviates from the set directions. Networking merely interconnects completely different classroom technologies to permit the sharing of resources.
Distance Learning
Educational and training institutions have developed portals to facilitate distance learning. Students who find it hard to attend a class can become part of the classroom using video technology and shared computing resources.
Virtual Field Trips
Computer systems and also the internet permit students to virtual travel anyplace online will take them. Google classroom is a great technology that will facilitate field journeys to locations around the world or perhaps space. New increased reality and virtual reality technology also can offer students the chance to examine places or events they usually won't get to expertise.
Digital Cameras
Digital cameras are present in almost every classroom in Europe and American countries. In more advanced classrooms, higher-quality cameras are integrated with projectors or smartboards, gap up the expertise to the whole category. When cameras aren't breaking down classroom walls, they're providing a basis for self-assessment. Students in some categories use cameras to record themselves doing an associate activity then watch the video to spot areas for improvement. Further, cameras – each still and video – have become common tools to form academic tutorial output in place of the well-written essay.
Digital cameras can be used in a variety of ways to engage students in the learning process.
A science teacher, as an example, might have students take footage of various trees that will be found inside their community. The students can use that footage to spot the trees and build PowerPoint shows giving a lot of info regarding them.
An English teacher could assign their students to film themselves acting out a scene from "Romeo and Juliet" (most digital cameras now include a video function).
Teachers who use this technology realize that students can work hard as a result of the relish interacting with the camera, and it encourages a unique variety of teaching and learning.
Word processing applications
Most computers escort data processing applications put in. For example, Microsoft office includes all necessary applications needed to compose and organize information. Students can easily use these applications to write down notes, check the orthography of words as they write – with automatic spell-check feature, and save notes for fast retrieval at a later date. Data processing applications facilitate students to discover new words. Teachers can easily teach students to use these classroom technologies throughout the learning sessions.
3D Printing
With a 3D printer, students and teachers will style 3D models that area unit for academic functions or perhaps only for fun. If an instructor or teacher can show and point out a theoretical thought with a model for a visible rather than one thing during a textbook, that may improve learning. With 3D printing, you'll be able to produce and style however you wish your epitome to seem with the CAD software system. This can be a classroom technology that has low prices and may be helpful to each student and teacher.
Students learn at their personal pace, with completely different ways of understanding. Technology is a perfect way to customize classroom teaching. A combination of ancient and digital education will assist in personalizing lessons to show during a lot of purposeful means. Some students learn quicker through visual graphics, whereas others learn quicker through audios and podcasts. Desegregation technology within the classroom will increase students' interest in learning by facilitating completely different teaching techniques.
Audio enhancements
In auditoriums or giant lecture halls, audio sweetening instrumentation is finding its approach into classrooms of all sizes. Audio enhancements talk over with a set of tools from high-quality speakers to wireless microphones. A full system includes straightforward to wear microphones transmission associate teacher's voice to speakers in each corner of a room. The speakers may also be connected to a transmission presentation or someone connection the category through a camera in a very remote location. With quality speakers distributed around a room, every student is ready to listen to and absorb the data being shared. Educational advantages of audio-enhanced environments embrace higher retention from pupils, a lot of engagement and interaction, and better teacher energy as a result of they're less tired from having to strain their voice day in and time out. These systems are becoming a lot of advanced daily. Directional sound speakers modify students in several areas of a room to have interaction in activities while not distressful others. Students who have a hearing downside will tune their space speakers to produce higher amplification levels. And lectures or discussions will simply be recorded (as videos or podcasts) for later review or distribution.
Control centers
Classrooms typically have already got multiple streams of data accessible. The choices area unit expected to still grow. To completely utilize the growing choices, instructors got to be ready to switch seamlessly from displaying a Skype chat to a documentary to a digital lecture.
To modify this, systems just like the ELMO CRC-1 "switcher" area unit quickly changing into centerpieces in lecture rooms.
"One of the items that kill the tutorial flow is that the time period [for setup].
By integration the ELMO into the projector and therefore the audio improvement it's a swish lesson all the means through.
The 21st century has seen an explosion of technological advancement and classrooms have not been left out. Tools such as Smartboards and LCD projectors give teachers new ways to engage their students in the learning process.
Today's students, after all, are digital natives. They were born into a world enclosed by technology, perceive a way to use it, and usually teach best once they are ready to move with it directly. The following classroom technology, used sagely, has the potential to enhance instructional outcomes.
Writer: Tahsin Ahmed