Best Freelancing Websites in 2020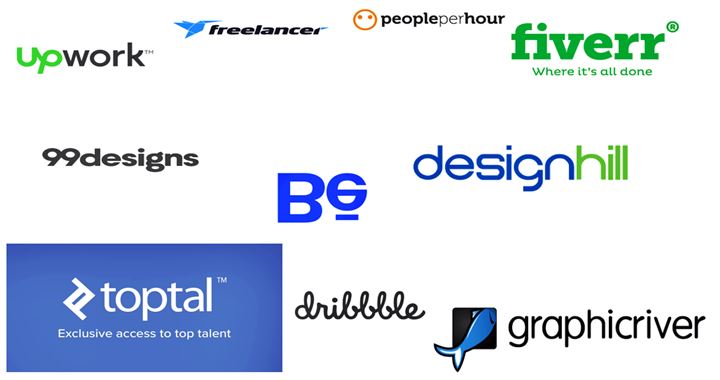 Freelancing, commonly known as a self-employed person who offers services, often working on several jobs for various clients at one time. Freelancers usually make money on a per-project basis, charging an hourly or monthly basis for their work. This kind of work is usually either for a short-term or long term. Here, we describe the Best freelancing websites in 2020.
1. Upwork
Upwork, one of the largest and demandable freelancing marketplaces nowadays for basic, intermediate, and expert level freelancers. Upwork has also had short-term, longer-term, and entry-level projects. Those who have basic IT skills with lower expertise knowledge are not suitable for Upwork. Intermediate and expert level freelancers are requested to work in this marketplace.
Fee structure
From a single client Upwork charges 20% on the first $500 earn
This fee reduced to 10% once earned more than $500 with the same client
Only pay 5% on anything earned above $10,000 with a single client
For an example of how this works if you do a job for a client for $850.
The first $500 will have a 20% associated fee ($100). The remaining $350 will only be charged a 10% fee ($35). This brings your total fees to $135 for the $850 project.
With Upwork's advanced filtering system any freelancer identify clients that have verified their payment and have previously hired on the platform.
2. Freelancer
Freelancer.com doesn't give any incentive to work with the same client and charges the same fee regardless of the amount you've earned over time.
Now, here we discuss some important things you need to know about freelancer.com.
For fixed-price projects, you'll pay a fee of either 10% or $5, whichever is greater
For hourly projects, you'll pay a flat 10% fee, making this a more popular choice for smaller projects under $50, as the total fee will be lower
If you win a contest, you'll be charged either $5 or a 10% fee, whichever is greater
For services, you'll be charged a 20% fee
If you don't log into your account for six months or more, you'll be charged a maintenance fee of $10 per month—although this seemingly unnecessary fee will be refunded upon your request, or upon the reactivation of your account
If any freelancer refers an employer to this marketplace he/she can skip any fees. If any freelancer can able to do this, his/her fees will less from 10% to 0% for all upcoming work with that client.
3.Peopleperhour
PeoplePerHour is a very popular marketplace for freelancers. Nowadays it attracts freelance workers.
By halving our 20% commission bracket from £500 ($700 / €600) to £250 ($350 / €300) we're making it even easier for you to earn more money on our platform with same buyers and giving long term relationships.
For example, Dominica designs a website for a buyer and charges £500. She is charged 20% fees on the first £250 and 7.5% on the remaining £250. So, Dominica will pay £68.75 in fees.
4. Fiverr
Fiverr, a great marketplace where the freelancer can sell their digital services and offer jobs at the same time. Its services start at just US$5. When workers gig sells, Fiverr takes $1 for every $5 freelance worker make, or 20%. This means that as soon as a sale comes through, you have made $4.
Suppose, if you earn $5 dollar, Fiverr will take $1 dollar as a service charge. That is the standard fee on Fiverr. Fiverr charges it because they promote your gig on their platform so you do not have to worry about promoting your gig.
5. 99design
99designs, a platform for designers and clients to work together to create designs. The cheapest rate for this marketplace is USD 299 and clients get about 30 designs, good designers, and obviously money-back guarantee.
99designs is just like a contest based marketplace.
Contest title. This is what's going to attract people to the contest. Design the new affiliate marketing mastery logo. I can't really think of anything really captivating right now. I'm just going to put that for now.
Promoting it, costs more money to promote it. They have a list of people. I've never promoted it before in the past, so I'm just going to use the basics they have, but if you really want to attract more designers, then they have extra packages and incentives for that.
6. Behance
Behance is a marketplace where Participation is free. There are no restrictions on the number of projects a member can create. There is also no limit on the number of images users can upload. Behance is free for creative professionals across disciplines.
7. Designhill
Designhill is the most popular marketplace, powered by a massive community of designers and business owners. In this marketplace graphic designs for logos, business cards, t-shirts, websites, and more available.
One of the favorite resources of freelance graphic designers to find work is designed marketplaces. Plenty of such marketplaces are accessible on the web today. But Designhill leads them by offering more earning opportunities with many useful features for freelance designers.
Designhill is already home to thousands of graphic designers. They come from different backgrounds from across the globe.
However, there are still many designers whose freelance earnings do not match their talent and skill. Freelance graphic designers should explore Designhill to their advantage.
As a graphic designer, you can search for work under different categories. These include Logo & Brand Identity Card, Logo & Social Media Pack, Logo Design, Business & Advertising, Brand & Identity, Mobile & App, Illustration & Art, Product Design, Clothing & Apparel, and Social Media.
As a talented and experienced designer, or as a beginner, just explore these categories to find out the work that suits your skills and interest.
8. Toptal
Toptal is a freelance talents' network of developers, designers, and financial experts. This platform wants to hire talents who belong in the top 3% of their fields. This ensures that employers get the best candidates to fill in their open positions.
With Toptal, companies are assured that they are with a cost-effective hiring platform. Their chosen freelancer can work with them for a free trial period. And when they decide to add the talent to their team, they pay only when they are satisfied with the work.
Employers are offered only the best talents with Toptal. The platform rigorously screens freelancers to ensure that they are fluent English communicators, have pleasing personalities, and are knowledgeable and skillful in their own fields. Only 3% of freelance applicants pass the review process to maintain the quality of talents.
9. Dribbble
Dribbble is an exceptional place to browse through many creative designs from individual designers, teams, and companies all over the world. The designs posted here aren't just limited to a web or mobile app design — there are icon design, branding, animations, prototypes, illustrations, graphic art, and many more.
Before your next job application, try to get an invite to Dribbble and start posting some of your creative design shots. Then, provide the link to your potential recruiters, interviewers and to the general public to prove your design skills and more importantly, your passion for design.
Many designers that dislike Dribbble because of its several limitations like, only being able to upload fixed image size (400×300 or 800×600) and specific number of shots per day or per month. However, I think there's way more to gain from utilizing it to your advantage.
And yes, good projects doesn't always depend on nice-looking designs. As long as you know this, I think you're fine.
10. GraphicRiver
GraphicRiver is more than a place to find great graphics, it's a community!
At GraphicRiver we like to say that it is this community who really owns the site and we do our best to make sure they get the most out of it by providing not just great selling facilities but also interactivity, news, competitions, and whatever else we can dream up!
Plus GraphicRiver is part of Envato Market. Signing up to an account on GraphicRiver will let you access the whole network.
Freelancing may be a terribly exciting way to earn higher cash.
It permits an individual to choose his own schedule, the kind of tasks he likes to figure on, and the way abundant he desires to figure.
Writer: Tahsin Ahmed