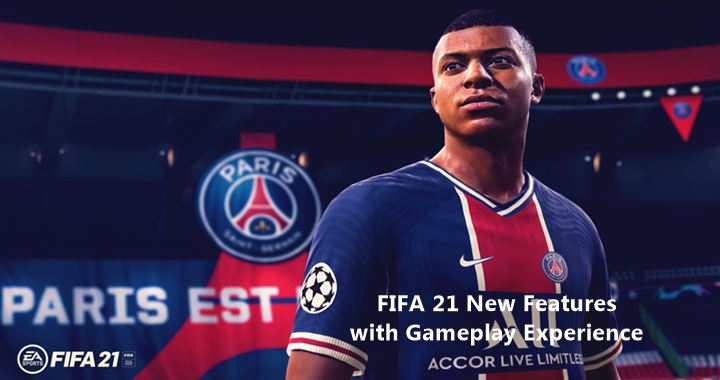 FIFA 21 released worldwide on October 9, 2020, and followers of EA Sports' best-selling football game franchise will be notifying themselves of all the new titles have to offer.
The launch was delayed due to disruptions caused by the global coronavirus pandemic, but EA's teams pulled together to deliver a fresh edition.
There's nothing revolutionary on the FIFA 21 features list, at least where current-generation is concerned. Still, there are small reasons to be joyful, such as the addition of new Benfica player faces. Extra detail is always welcome.
Here we are trying to explain FIFA 21 new features with gameplay experience.
Gameplay put to the test
It's impossible to judge any football game in a short time, but our few days testing FIFA 21 gameplay delivers some encouraging signs.
Improvements are refined but key – the most immediate being center-forward intelligence. Depending on their awareness rating, strikers attempt to stay in line with the last defender, only breaking towards the ball as it's released in behind the defense or crossed into the box.
Other insignificant but important takeaways, in no specific order: Goalkeepers are much stronger on the near post. Heading hasn't been overhauled completely but isn't nerfed like in FIFA 20. Central midfield play is less soupy, offering a touch more space & time on the ball. Defenders' better recognition of passing lanes, coupled with new blocking animations that make timely interventions feel less arbitrary, tidily counterbalances the upgraded attacking intelligence.
Taking control
The first thing I want to spotlight is what EA calls "Creative runs," a feature FIFA fanatic have been requesting for years. Now you can control the run of players who aren't in possession of the ball. No more passing to a player only for the person who passed the ball to stop their run and stand around daydreaming. In FIFA 21, you can tell a passer which direction to run by flicking the right trigger immediately after passing the ball.
It's a great addition to the attack, but the AI isn't always the smartest with its runs; a player will continue a straight forward spring in the desired direction until they are offside. Players also feel more responsive, solving a major issue with FIFA 20's gameplay. There is no more delay between your first touch and when your player makes a move.
Other gameplay changes we've noticed include more accurate through-balls although they still tend to go to the wrong player, smoother, more realistic animations (the graphics haven't changed much), and more rewarding tackling.
AI and difficulty levels
Before I go into some of the other game modes, I'd like to briefly mention AI and difficulty levels. Updates to FIFA 20 carried major improvements to the AI. Prior to the updates, I had no problems defeating my opponents on Legendary difficulty but after them, I was losing almost every game.
career mode upgraded at last
FIFA 21 career mode has given some attention this year, with the option to jump into simmed games and play key moments at any point one of many improvements.
A major point of focus is your youth set-up, in real life players occasionally start off in one position only to find excellence at another as they near first-team football. you can change a promising left-back to center-forward if his traits are better suited in that role. Also cool is the option to sim matches but jump in any point to take control of key moments, such as free-kicks and penalties.
Volta gets new tweaks and new locations
Like career, FIFA's small-sided mode has got a fairly comprehensive reworking. Interest in the FIFA Street redux waned as last season progressed, but EA hasn't given up on it. The opposite, in fact. Features Battles neatly apes the Squad Battles of Ultimate Team, Volta Squads enables online gameplay alongside up to three friends, and confirmed locations include Sao Paulo, Rome and Dubai.
Difference between FIFA 21 & FIFA 20
Reviews of FIFA 21 have mostly been positive, but the consensus view seems to be that it is a game that is essentially a minor upgrade on FIFA 20, with new skins and only few tweaks to existing features.
Aside from new kits, squads, and all-new ratings, FIFA 21 boasts a number of features that make it different to FIFA 20.
Chief among these is possibly the ability to jump into games in order to affect the outcome of a match in Career Mode. The game mode on FIFA 21 agrees players to simulate matches in Football Manager style and if things aren't going how you want them to, you can take control and play manually.
Another notable difference in the games is the new Player Development system, which permits you to retrain players so that they can play in new positions and their improvements are more realistic.
Ultimate Team, which is by far the most popular game mode in the FIFA franchise, is largely the same, but Co-Op games have been added. The new feature permits FUT players to team up with friends online in Squad Battles of Rivals.
The overall gameplay appears to have improved in FIFA 21 too, with things such as passing and dribbling getting better, while the AI has been augmented to provide a better, more enjoyable, gaming experience.
Of course, one more crucial difference is the soundtrack and this year's game features tracks from Dua Lipa, Sia and The Prodigy among others.
Bottom line
FIFA 21 doesn't rewrite the rulebook, instead, it attempts to satisfy its player base by making meaningful changes to each game mode. Career Mode gets the major update with a new interactive sim option, a revamped youth development system and improvements to AI. Volta takes a backseat this year but remains a thrilling fast-paced option when the calculated pace of regular soccer starts feeling tedious.
Overall, FIFA 21 is an outstanding soccer game that adds something new to each game mode while refining the on-the-pitch gameplay — I just hope FIFA 22 can bring new life to the franchise when it launches on PS5 and Xbox Series X.
FIFA 21 System Requirements
FIFA 21 System Minimum Requirements
CPU: Athlon X4 880K / Core i3-6100 or better
RAM: 8 GB
OS: Windows 7/8.1/10 64-Bit
VIDEO CARD: Radeon HD 7850 or better/GeForce GTX 660 or better
PIXEL SHADER: 5.0
VERTEX SHADER: 5.0
FREE DISK SPACE: 50 GB
DEDICATED VIDEO RAM: 1024 MB
FIFA 21 Recommended Requirements
CPU: AMD FX 8150 / Core i5-3550 or better
RAM: 8 GB
OS: Windows 10 64-Bit
VIDEO CARD: Radeon R9 270x or better/GeForce GTX 670 or better
PIXEL SHADER: 5.0
VERTEX SHADER: 5.0
FREE DISK SPACE: 50 GB
DEDICATED VIDEO RAM: 2048 MB
Writer: M Zahidul Kabir