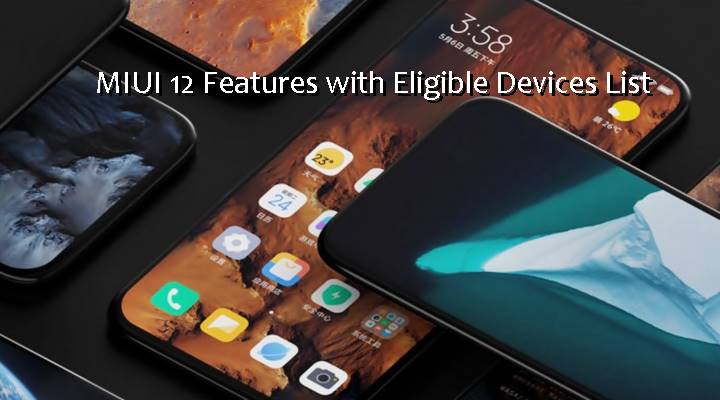 Nowadays, the smartphone users want a phone with stylish OS and various features. As we know software is the soul in a smartphone. MIUI is a custom user interface based on the Android operating system for Xiaomi phones, which are sometimes better than stock android.  Xiaomi announced the latest MIUI 12 on April 27, 2020 in China. While the stable version of MIUI 12 will not be available until the end of June, 2020.
In this article TechShouts try to covers a short overview of the new and most remarkable features in MIUI 12.
New icons, fonts, and animations
There are indirect alterations to the standard icon packs that are part of MIUI's pre-installed themes. The battery icon is much cleaner now, and you can select from four different ways to display the remaining battery life.
MIUI 12 also gets a more spaced-out and modern-looking font that drives well with the new UI.
The window launching and closing animations a slight transition in the icons for system applications. in MIUI 12, the window expands right out of the app and drives back into the icon when you open or exit an application. In about Phone menu, you see a splash of animations, exclusively on the storage tab.
Super Wallpaper
One of the major highlights of MIUI 12 is "Super Wallpaper," which contains high-precision 3D animated wallpapers of Earth and Mars. The wallpaper zoom-in every single time you unlock the device or moves when you exit a folder or switch among home screens.
New "Control Center"
MIUI 12 gets a new Control Center, which is inspired by recent versions of iOS. The quick settings tiles and the notifications shade are now separated. When you swipe downwards from the top right side, the restructured Control Center opens. You can entrance the settings by tapping the gear icon on the top right or edit the quick settings menu by the edit button. The notifications shade can be opened by swiping down on the display along the top left side. The notifications from the same application are itemized together and can be extended individually either by swiping downwards on the bubble or by long-pressing the notifications group. If you don't like the new Control Center, you can disable the feature.
App drawer
MIUI gets an app drawer in the stable MIUI 11. The app drawer is also available in MIUI 12 and can be activated from Settings. But app drawer lacks the choice to sort and group apps on the basis of the color of their icons.
Floating windows
MIUI 12 adds floating windows with the objective of present the similar multi-window capability as on a desktop. The floating windows can be resized, so you can continue occupied on another application in the background.
Dark mode 2.0
MIUI 12 gets an improved Dark Mode, which can be applied selectively over certain apps. The new dark mode can invert colors or force dark backgrounds, which are usually supposed to be light.
New and improved Camera UI
MIUI 12 supports the custom function outline in the camera application. With this, users can choose which camera options to retain at the forefront. The users can preserve 2-10 options on the default camera app UI.
AI phone assistant
MIUI 12 added one more feature that is AI phone assistant. This feature is specially intended with hearing abilities. Various numbers of AI-generated replies are there to retain the conversation going for hearing or vocal disabilities.
Memories in Gallery & File Manager sorting
MIUI 12 moreover brings two new handy features in the Gallery as well as the File Manager apps.
The first one is Memories, which can be used to generate collages or short videos using the existing images or videos you have.
The File Manager for sorting, that allows you to assemble different files and folders by name, size, date of creation, or file type.
Health features
MIUI 12 brings new features to help you improve your fitness and mental wellness. The built-in step counter is now accompanied by automatic tracking for running, cycling, and stair-climbing. There's a new sleep tracker that archives the time and quality of your sleep based on the activities and noises you make at night.
Privacy features
MIUI 12 gets a new feature to describe users of the permissions accessible to any app. When you launch an application for the first time, MIUI 12 commands your attention towards the information the app will be accessing.
There's "Flare" which raises an alarm each time an application is trying to use the camera, microphone, or location without your permission.
There's one more feature called Mask System, which returns dummy or empty messages by default when any third-party application is trying to access your call log or messages.
Eligible Devices List
Xiaomi has shared the update schedule for the rollout of stable version and listed the devices that will be getting this update initially, but it must be noted that the following list only applies to China. For global MIUI users, MIUI 12 supported devices list yet to be announced by the company.
List of devices confirmed to receive MIUI 12 update
Xiaomi Mi 10, Xiaomi Mi 10 Pro, Xiaomi Mi 10 Youth Edition, Mi Mix 2s, Mi Max 3, Redmi K30 4G, Redmi K30 5G, Redmi K30 Pro, Redmi K30 Pro Zoom Edition, Redmi K20 Pro Premium Edition, Redmi K20 Pro, Redmi K20, Mi 8, Mi 8 SE, Mi 8 Screen Fingerprint Edition, Mi 8 Explorer Edition, Mi 8 Youth Edition, Mi Mix 3, Mi Mix 2, Mi Note 3, Redmi Note 8 Pro, Redmi Note 8, Redmi Note 5, Redmi Note 7 Pro, Redmi Note 7, Xiaomi Mi CC9 Pro, Xiaomi Mi CC9, Xiaomi Mi CC9e, Mi CC9 Meitu Custom Edition, Mi 6 (Beta Confirmed), Mi 6X, Xiaomi Mi 9, Xiaomi Mi 9 SE, Xiaomi Mi 9 Explorer Edition, Xiaomi Mi 9 Pro 5G, Redmi S2, Redmi 7A, Redmi 7, Redmi 8, Redmi 8A, Redmi 6, Redmi 6 Pro, Redmi 6A.
Writer: M Zahidul Kabir