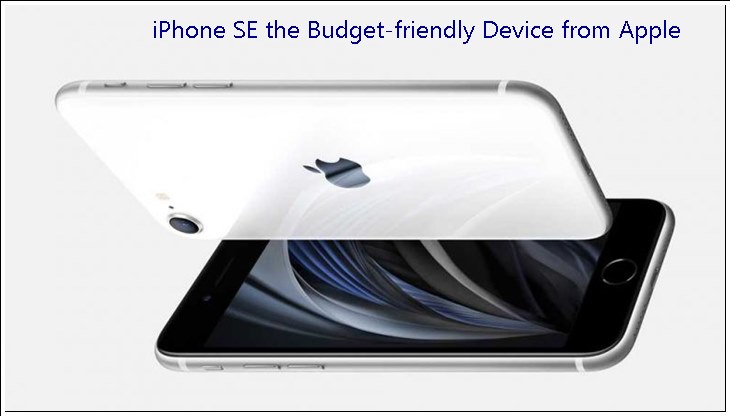 Apple Inc. is an American establishment, sells consumer electronics, computer software, and online services. The iPhone is a smartphone made by Apple Inc. that associations a computer, digital camera, and cell phone into one device with a touchscreen interface runs the iOS operating system (OS). Apple frequently releases new iPhone models, presenting new features and design changes.
Apple Inc. announced That they're releasing a brand new iPhone Special Edition (SE) on April 15th, 2020. Now, we've been hearing quite a few rumors about this for some time now and it is finally here. iPhone SE is the budget-friendly device from apple family. Pre-orders for iPhone SE are going to go up on Friday, April 17th, 2020 and they'll officially available on April 24th, 2020.
So let's have a look the most highlighted features of iPhone SE
Potential Users of iPhone SE
Now, the iPhone SE is something that was really popular in the past. It was always that great option to get if someone didn't want to use a really big phone since Apple's coming out with thousands of much larger displays these days. If you're someone who just couldn't get over the way phones used to be in the past, where they had a smaller display, it was something that was very comfortable in the hand. Then you had this as an option.
If you like larger display smartphones then, you can select the alternative models of iPhone or other brand smartphones available in market.
Camera setup of iPhone SE
The iPhone SE has the body of an iPhone 8. So there isn't going to be much that this phone can't do that the new ones can, besides taking pictures and that kind of thing. The cameras here are a bit different. So instead of a dual camera lens system or a triple camera lens system, we're rocking one 12-megapixel shooter in the back and they're pretty much treating this the same way they treated the iPhone XR.
When the iPhone XR, you only have that single camera lens the back. But you were still able to do things like take portrait mode photos. But of course, there was a limitation to it because it didn't have the extra lens. So portrait mode photos will only work on humans. So if you wanted to take a picture of anything like a flower or whatever it may be, you won't really be able to pull that off. I feel like for most people that's not going to be a really big deal because most of the time people are taking pictures of themselves or each other.
Now, somebody else that you'll be able to still do with the camera is, you know, take that 4K video. And this makes sense. You still got that A13 bionic processor inside. So we're not going to see features like that go away. So if you want that nice 4K video, you're still going to have the ability to do that with this camera.
Display Size of iPhone SE
Now, let's jump back to the fact that this is in the body of an iPhone 8. So the iPhone 8, we had a few different things. This was a 4.7-inch widescreen LCD Multi‑Touch display with IPS technology. So that means, you know, you got that smaller screen. But like I said, it was much easier to hold in the hand. That's something a lot of people were used to. It is bigger than the original iPhone SE, which had believed a four inch display. So it had a smaller display. But this one is a little bit bigger. Still very comfortable to hold in the hand.
Home Button is Back on iPhone SE
In iPhone SE you got stuff like touch ID. That home button is back. So you still have access to things like touch ID. It was easy to just unlock the phone. You just pick it up, press the button, then you are in. It was a really, really smooth experience. It was a nice experience. So I think that anybody who picks this up is going to have a really easy and nice smooth time because you can also jump into apps. If you needed to put in a password, you can do that. Authorizer and things you can just use touch idea. It was this is an awesome experience and I'm glad that it's back in some capacity.
Wireless & Fast Charging Feature on iPhone SE
The iPhone 8 was originally the first iPhone to introduce wireless charging because of that glass back. And thankfully, even though this is one of those cheaper models, you still have access to features like that. So you can still wirelessly charge with this device. This phone even gives you access to fast charging. So if you have one of Apple's 18 watt chargers, you plug that guy in and in just about 30 minutes you get 50% battery back. And I think people who get this phone and have experienced fast charging in the past are really going to enjoy that feature.
Backplane Design & Color Variant of iPhone SE
Apple did change up the design of the back just a little bit to match the new iPhone 11. The Apple logo is now right in the center. And there are no other words. So it's just a clean back with the Apple logo in the middle. And speaking of the looks, Apple has come out with three different colors that is black, white and of course product red.
Storage Variant & Price of iPhone SE
Now, if you decided you want to pick one of these up, how much would it cost you? Right. So Apple is offering a 64 GB version, a 128 GB as well as a 256 GB. They're all starting at $399. And I believe the upper tiers are for $449 and $549.
iPhone SE
I know, this is a 2020 iPhone even though it has a much smaller display, smaller body and all that stuff. But it's the 2020 iPhone has the same power as the iPhone 11 in terms of the processor. That is going to be a very, very enticing offer for a lot of people.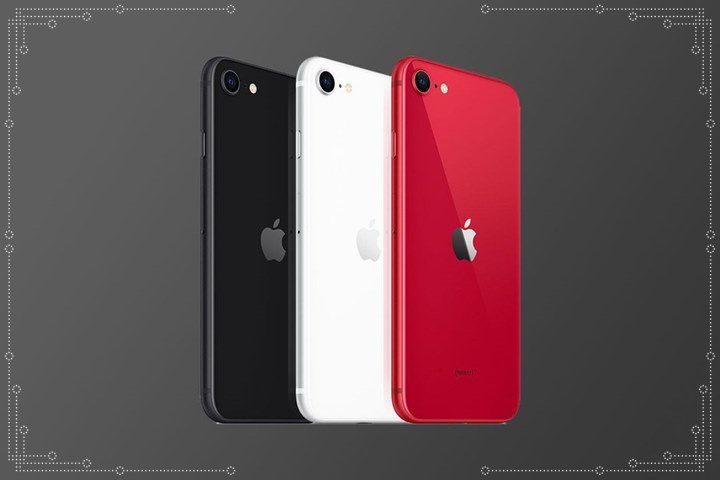 Specifications
Height: 5.45 inches (138.4 mm)
Width: 2.65 inches (67.3 mm)
Depth: 0.29 inch (7.3 mm)
Dual SIM (nano-SIM and eSIM)
iPhone SE is not compatible with existing micro-SIM cards.
Retina HD display
4.7-inch (diagonal) widescreen LCD Multi‑Touch display with IPS technology
1334-by-750-pixel resolution at 326 ppi
1400:1 contrast ratio (typical)
True Tone display
Wide color display (P3)
Haptic Touch
625 nits max brightness (typical)
Fingerprint-resistant oleophobic coating
Display Zoom
Reachability
A13 Bionic chip (Third‑generation Neural Engine)
12MP Wide camera
ƒ/1.8 aperture
Digital zoom up to 5x
Optical image stabilization
Six‑element lens
LED True Tone flash with Slow Sync
Panorama (up to 63MP)
7MP camera
ƒ/2.2 aperture
Auto image stabilization
1080p HD video recording at 30 fps
4K video recording at 24 fps, 30 fps, or 60 fps
1080p HD video recording at 30 fps or 60 fps
720p HD video recording at 30 fps
Extended dynamic range for video up to 30 fps
Optical image stabilization for video
Digital zoom up to 3x
Slo‑mo video support for 1080p at 120 fps or 240 fps
Time‑lapse video with stabilization
Cinematic video stabilization (4K, 1080p, and 720p)
Gigabit-class LTE with 2×2 MIMO and LAA4
802.11ax Wi‑Fi 6 with 2×2 MIMO
Bluetooth 5.0 wireless technology
NFC with reader mode
Express Cards with power reserve
Touch ID fingerprint sensor (Home Button)
Barometer
Three‑axis gyro
Accelerometer
Proximity sensor
Ambient light sensor
Rated IP67 (maximum depth of 1 meter up to 30 minutes)
black, white, product red.
Writer: M Zahidul Kabir